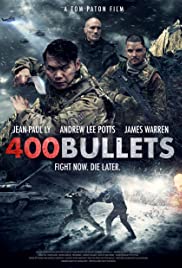 Opis:
400 BULLETS is an edge-of-your-seat Military Action story about what it means to fight for honor instead of profit. The film packs gun battles, epic hand-to-hand fight sequences and witty dialogue into its 90 minute run time.
Slično za pogledati
Komentari (1)
Nakon smrti oca, Katrina nasleđuje staru porodičnu kuću na selu, u Norveškoj, koju priprema za prodaju. Međutim tokom boravka u istoj, tajne iz traumatične prošlosti njene porodice, polako...

In the streets of Thailand, a trail of destruction and mayhem ensues when a notorious soldier (Byron Gibson) and criminal kickboxer (Ron Smoorenburg) join forces to become the biggest illegal steroid...