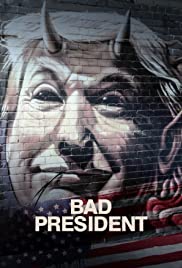 Opis:
This black comedy answers the question that has obsessed America and the world since November 08, 2016. How did Donald Trump become President of the United States?
Slično za pogledati
Komentari
Two marijuana-loving brothers, Earl and Ray Ray, embark on a journey in search of a mythical highway in Kentucky, which they believe will lead them to "marijuana nirvana". After encountering several...

Four seasoned killers and one hapless professor are rounded up in one violent swoop and awake in chains to discover they are part of a demented experiment orchestrated by their maniacal, mysterious...

Organizacija koja sebe naziva Bratstvo poziva Crnog Osvetnika (Eddie Griffin), galantna i nekonvencionalna junaka gladna pravde da zaustavi oličenje zla, čovjeka koji vodi multinacionalnu...