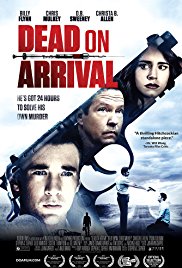 Opis:
A pharmaceutical sales rep visits a small town in Louisiana on business. He finds himself in a dark world of corruption and murder with 24 hours to live, running from the police, the mob and a sheriff that wants him dead.
Slično za pogledati
Komentari
Mladi novinar dolazi prerušen u komunu na planini, kojom vlada manipulativni lider dvostrukih standarda...

Corbin Nash donosi priču o odmetnutom Newyoškom policajcu Corbinu Nashu koji se prebaci u Los Angeles kako bi pronašao ubojicu svojih roditelja. No ubrzo i sam umre nasilnom smrću te "uskrsne" kao...

In the not so distant future, biochemical technology has advanced in unexpected ways. Unfortunately, it has fallen into the hands of the wrong man. A brilliant young biochemist by the name of Jacob...