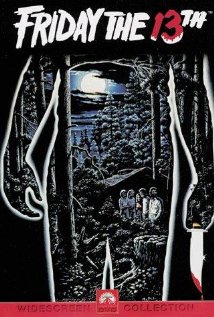 Opis:
Horor o manijakalnom ubojici koji proganja skupinu mladića i djevojaka u napuštenom turističkom kampu. Još od pedesetih godina kamp Crystal Lake slovi kao ukleto mjesto zbog misterioznih ubojstava. Nakon što je dvadesetak godina bio zatvoren i napušten, kamp je privukao pažnju Stevea Christyja (Peter Brouwer), koji živi u obližnjem mjestu i koji vjeruje kako je došlo vrijeme da ga se ponovo otvori. On započinje preuređivati kamp, a u pomoć mu stiže skupina srednjoškolaca koji će tamo raditi kao savjetnici za djecu. Po dolasku, mještani ih upozoravaju kako bi im bilo pametno da odmah napuste kamp, jer bi im se inače moglo dogoditi nešto loše. Učenici ne mare za upozorenja te odlaze u zlokobni kamp kako bi ga pripremili za otvaranje. No, čak i prije sumraka, past će prva žrtva manijakalnog ubojice"



The "Friday the 13th" franchise has proved remarkably successful. Screenwriter Victor Millers psychotic anti-hero Jason has featured in nine sequels, spanning nearly 20 years. The films have achieved tremendous popular notoriety, and spawned a merchandising empire that includes comics, T-shirts, and action figures. All of which proves how little originality and good film-making have to do with making money.

This first film tells the story of a group of randy teenagers who take summer jobs at Camp Crystal Lake, a run-down New Jersey summer camp. The camp has a dark past, and an even darker resident: the psycho in a hockey mask who hacks our comely teens to death. One by one, they are despatched with a variety of crude weaponry, including knives, hatchets, spears, and arrows.

Story:

In 1957, a young boy drowned at night at the camp. A year later (on Friday the 13th), two camp counselors were brutally murdered while getting it on in the lodge attic. After those events, the camp was closed. Several attempts to reopen it over the years were met with ill results.

Now, the son of the original caretakers is attempting to reopen the camp. He has recruited six counselors and a cook to assist. We first meet Annie the cook, who is trying to hitchhike to the camp. She is picked up by an unseen driver, who ends up slitting her throat. This is the only unconventional twist, because Annie seems like the token "nice girl" of the story (she is working at the camp because she wants to make a career of helping children).

We then shift focus to the camp and the counselors. The entire bunch are stereotypical horror movie teens -- drinking, smoking pot, and seeking nookie wherever and whenever they can be alone. Steve, the camp director, leaves for some unspecified errands in town. (He is just as reprehensible as the counselors. He hits on at least one of the teenaged girls, and flirts with a diner waitress, who looks like she was played by Walter Matthau in drag.) His absence allows the counselors to mess around, and gives the audience plenty of chances to view them from various menacing killers point of view shots.

Its not long before one of them dies while investigating a strange noise in a cabin. Night comes, and a storm falls befitting the eve of Friday the 13th. One by one the teens die, some in rather creative ways, until only Alice, the nicest girl in this bunch of losers, is left. An older lady, who claims to be a friend of the original caretakers, confronts her. The woman reveals that she is Mrs. Voorhees, the mother of the boy who drowned in 1957. She blames the camp counselors for Jasons death, so naturally thats why shes killing this bunch of counselors. The two women chase each other around the camp, resulting in some nice catfights, until finally Alice decapitates Mrs. Voorhees with her own machete. Alice escapes into Crystal Lake in a canoe, only to be pulled into the water by Jason, Mrs. Voorhees dead son.
Slično za pogledati
Komentari