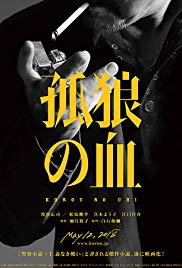 Opis:
Ogami Shogo je policijski detektiv u Hirošimi, Sa svojim partnerom Hioka Shuichijem istražuje nestanak jednog zaposlenog u velikoj kompaniji, dok oko njih besni rat jakuza. godina je 1988. i smrt je svuda oko njih...
Slično za pogledati
Komentari
Yorozuya klan vraća se da bi zaštitio lokalnog šoguna kada ga policija iz Shinsengumia okrivi da je počinio zločin...

Inuyashiki Ichirou is down on his luck. While only 58 years old, his geriatric looks often have him written off as a pathetic old man by the world around him and he's constantly ignored and...

At the Hirata home, three generations of their family live together. A crisis ensues when one afternoon, housewife Fumie falls asleep and wakes up to find a thief has stolen her secret money she kept...