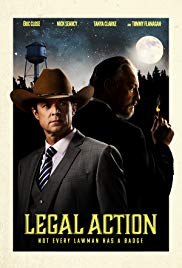 Opis:
Big-city lawyer Casey McKay, (Eric Close - Nashville, Without a Trace) is drawn to a small town by his ex-wife to defend her brother, accused of murdering a DA. He discovers a web of conspiracy that puts him face-to-face with the town's most corrupt land developer, Mr. Gates (Tommy Flanagan - Sons of Anarchy, Braveheart). As Casey unravels the truth, he finds himself fighting for his former brother-in-law's life, as well as his own.
Slično za pogledati
Komentari
The Rising Hawk je istorijsko, akcioni film rađen po romanu "Zahar Berkut" ukrajinskog autora Ivana Franka. Događaji se dešavaju u 13. veku za vreme mongolsko, tatarske invazije na teritoriji...

A teenager from an abusive household falls in love with a free-spirited runaway that leads him into the fast-lane lifestyle of drugs and addiction which threatens to destroy him.