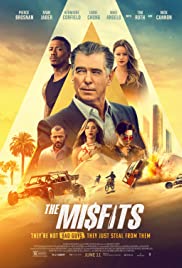 Opis:
Even a federal maximum-security prison can't hold Richard Pace (Golden Globe nominee PIERCE BROSNAN), a brilliant international thief. But his daring escape and high-octane car chase, eluding the FBI and police, ends with him being scooped up by The Misfits, a band of modern-day Robin Hoods. Led by the eccentric and charismatic Ringo (NICK CANNON) with Violet (JAMIE CHUNG), the Prince (RAMI JABER), and Wick (MIKE ANGELO) with Pace's daughter Hope (HERMIONE CORFIELD)- a mysterious group who do devious things for all the right reasons. The skilled group convinces Pace to join them to pull off the heist of the century: stealing millions in gold bars kept under one of the most secure prisons on earth, owned by rogue businessman Schultz (Tim Roth), and used for funding terrorist groups worldwide. Aside from the money, Pace wants revenge against Schultz, the man behind his incarceration. From LA to Abu Dhabi, it will take supercharged engines, forged identities, multiple cons, camels, nitro...
Slično za pogledati
Komentari
An American woman named Mildred Gillars broadcast Nazi propaganda during World War II. She was dubbed Axis Sally by the American GIs who simultaneously loved and hated her. The story plunges the...

King Louis XIV's quest for immortality leads him to capture and steal a mermaid's life force, a move that is further complicated by his illegitimate daughter's discovery of the creature.

A botched faith healing bestows supernatural Shaman powers on a bullied teenager. When his lifelong tormentors pull a prank that kills someone he loves, he uses his powers for revenge and goes on a...