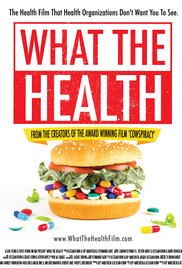 Opis:
What the Health is a ground breaking feature length documentary from the award-winning filmmakers of Cowspiracy, that follows the exciting journey of intrepid filmmaker, Kip Andersen, as he uncovers the impacts of highly processed industrial animal foods on our personal health and greater community, and explores why leading health organizations continue to promote the industry despite countless medical studies and research showing deleterious effects of these products on our health.
Slično za pogledati
Komentari
Using hidden cameras and never-before-seen footage, Earthlings chronicles the day-to-day practices of the largest industries in the world, all of which rely entirely on animals for profit.

Cowspiracy" je još jedno briljantno ostvarenje koje govori o temi koja se rijetko spominje, čak i među organizacijama koje se bave životnom sredinom. Stočarstvo i mesna industrija imaju primat u...