Film
Os deuses E Os Mortos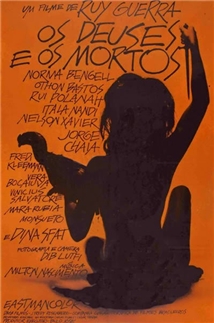 Opis:
In the 1930's, in the South of State of Bahia, Brazil, an adventurer with no name or history, who had already been shot 7 times, gets involved in the battle for land and cacao plantations. His plan is to take the place of "Colonel" Santana, taking his wife and money. He starts a bloody conflict, in which many simple people and landowners die.
Slično za pogledati
Komentari
This sequel to "Os Fuzis" follows the story of a hard working operator who dies on a work related accident due to the precarious conditions established in the place. But when his superiors decide to...

Eldorado, a fictitious country in Latin America, is sparkling with the internal struggle for political power. In the eye of this social convulsion, the jaded journalist Paulo Martins opposes two...

Film poznatiji pod skraćenim naslovom Antonio das Mortes (Antonio smrti ili Antonio koji donosi smrt) je brazilski igrani film snimljen 1969. godine u režiji Glaubera Roche. Predstavlja svojevrsni...