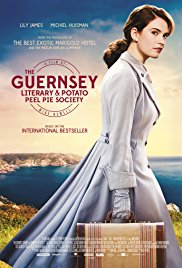 Opis:
Na britanskom otoku Guernseyju, za vrijeme Drugog svjetskog rata, osnovano je društvo zanimljivog i simpatičnog naziva – Društvo za književnost i pitu od krumpira s Guernseyja. S osnivanjem i aktivnostima tog neobičnog društva, sasvim neočekivano, upoznaje se uspješna londonska spisateljica Juliet Ashton, koja je upravo u potrazi za novom temom svoje knjige. Većina tih ljudi uzela je knjigu prvi put u ruke upravo u vrijeme rata, no ono što su pronašli u knjigama puno je više od riječi – pronašli su životnu snagu, inspiraciju, utjehu, spoznaju da se sve može sagledati i izreći na drugačiji način.
Slično za pogledati
Komentari (2)
Anna is a is a quiet, slightly timid woman of thirty. She lives with her family in the suburbs of a major city...

Lara Jean Covey writes letters to all of her past loves, the letters are meant for her eyes only. Until one day when all the love letters are sent out to her previous loves. Her life is soon thrown...