TV serija
Marvel Studios: Assembled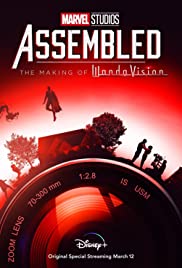 Naslov:
Marvel Studios: Assembled
Godina:
2021
Žanr:
dokumentarni
Opis:
Assembled is a comprehensive documentary series that chronicles the creation of Marvel Studios' thrilling new shows and theatrical releases. Assembled is an immersive, and in-depth examination of the next phase of the MCU.
Slično za pogledati
Komentari
A very pregnant woman run in the forest. She runs from a men armed with a gun. She's about to have the baby. In pain with contaction, she has to stop. She hides in the bushes but he finds her and...

TV serija u kojoj su glavni likovi oni iz Marvel univerzuma - Falcon i The Winter Soldier.

Priča o neurokirurgu svjetskog glasa dr. Stephenu Strangeu dobila je svoj samostalni nastavak. Doktor Strange otključava Multiverzum i pomiče njegove granice dalje nego ikad prije. Putovanjem u...