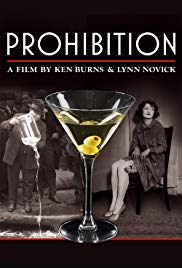 Opis:
Throughout American history, heavy alcohol consumption has been a pervasive part of its national social character. However in the 1800s, a growing Temperance movement arose determined to oppose the destructive habit by any means necessary. This series tells the story of this crusade until it achieved its ultimate goal of passing the 18th Amendment of the US Constitution which imposed prohibition. After that victory, the series covers this social reform's disastrous unintended consequences that encouraged clandestine drinking and organized crime while undermining civil liberties and society's respect for the law in ways that still reverberate today.
Slično za pogledati
Komentari
This highly acclaimed mini series traces the course of the U.S. Civil War from the abolitionist movement through all the major battles to the death of President Lincoln and the beginnings of...

This film documents the exploration expedition led by Meriwether Lewis William Clark into the interior of North America in the early 19th century. We follow the Corps of Discovery as they winded...

A documentary that weaves together the stories of Theodore, Franklin and Eleanor Roosevelt, three members of one of the most prominent and influential families in American politics.