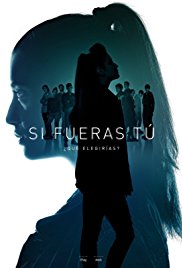 Naslov:
Si fueras tú
Godina:
2017
Žanr:
misterij
Opis:
Alba is a 17 year old girl who moves with her uncle Miguel to a new city looking for a new life. Nevertheless, when she arrives to her new school she realizes adapting won't be that easy because everyone is looking at her - she is just like Cris, a girl who disappeared a half year ago - When Alba finds out, she decides to investigate the case with unpredictable consequences.
Slično za pogledati
Komentari
Tajanstveni lik po nadimku "Profesor" planira najveću i unikatnu pljačku u istoriji. Za taj poduhvat regrutuje bandu od sedam osoba koje povezuje jedna zajednička osobina: niko od njih nema šta da...

Four friends have lived in a world of their own for 8 years as they shared a flat in Madrid. They prepare to face changes to their lives at the end of the summer.

Andres Vargas je policijski inspektor koji gubi život goneći serijskog ubicu koji je ubio pet žena. Vargas će dobiti priliku da se ponovo vrati među žive i uhvati ubicu pet godina kasnije u telu...